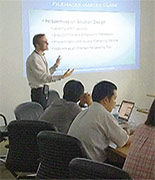 NightWing FileMaker Training
In Progress!



NightWing Enterprises Offers Intensive FileMaker Training from Beginner to Expert Levels.
We offer FileMaker training courses at each of the following four levels:

Introductory
Intermediate
Advanced
Expert


The classes at each of the first three levels are of two days' duration, while the expert (Master Class) level is conducted over three days. Classes are offered in a variety of locations according to demand.



Details of the courses available, including links to an outline of the topics covered at each level, are provided below.