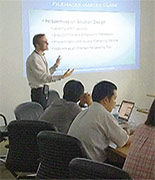 NightWing FileMaker Training
In Progress!



NightWing Enterprises Offers Intensive FileMaker Training from Beginner to Expert Levels.
We offer FileMaker training courses at each of the following four levels:

Introductory
Intermediate
Advanced
Expert


The classes at each level are of three days' duration and are offered in a variety of locations according to demand.



Details of the courses available, including links to an outline of the topics covered at each level, are provided below.