★ NightWing Products ★


Native encryption systems for FileMaker 7, 8, 9, 10, 11 and 12!!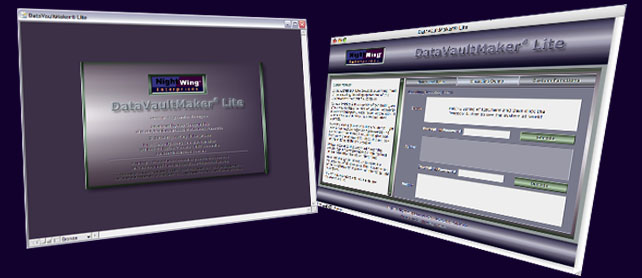 DataVaultMaker® 2.0 Lite

A powerful tool for developers of FileMaker™ Solutions v7 to v12 inclusive.



DataVaultMaker 2.0 Lite uses the technology of the yet-to-be-released DataVaultMaker Pro 2.0 to bring you password protected encryption based on custom functions for use in FileMaker Pro scripts and calculations. This is a tool that will give your FileMaker Pro development project added leverage.

DataVaultMaker 2.0 Lite is a highly economical solution which allows the efficient and seamless integration of strong data encryption into FileMaker solutions. Now you can reliably encode and decode data strings up to 200k in size in a single pass (no scripted loops required). DataVaultMaker offers a valuable aid to securing passwords, access codes, dates, times and any other sensitive text or numeric (including date and time and timestamp) data.

...Details >>>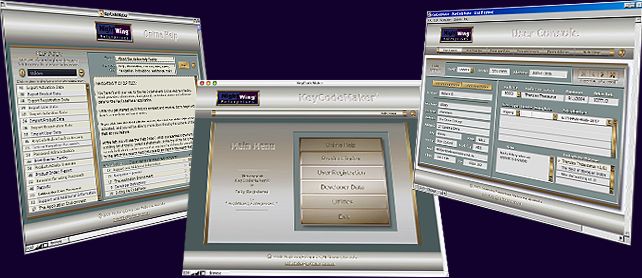 KeyCodeMaker®

A powerful tool for developers of FileMaker™ Pro v6 (and later) solutions.
(additional support for later versions of FIleMaker is in the works)



KeyCodeMaker is a standalone application which generates user registration codes for your FileMaker v6 solutions *and* creates calculations to decode them. It will provide independent activation coding systems for registration of different solutions and versions, plus it uses one way encoding to tie codes to individual usernames, while simultaneously providing the capability to encapsulate dates and other data within the user activation registration codes to provide support for time-limited activations and/or multiple user privilege levels etc.

...Details >>>



NightWing Enterprises Pty Ltd

ABN 11 091 607 591
www.nightwingenterprises.com
PO Box 20, Dallas, Victoria, Australia 3047
Ph +61 3 9016 3347 • Fax +61 3 9309 8273 • Mobile 0409 309 143
Email:
contact@nightwing.com.au

NightWing Enterprises - FileMaker Solutions:
- NightWing Enterprises, and the internet code-named
CobaltSky
is an internationally recognized
FileMaker Pro consultant
,
FileMaker Pro Developer
and provider of
FileMaker Pro custom
databases,
FileMaker Pro custom development
services.
Site created and managed using
FileMaker
™ Pro.

NightWing Enterprises is a division of d a r k s k y m e d i a